Looking for a picture-perfect gift? A gift card from Deck The Walls will allow the recipient to visit their local Deck The Walls and select a gift that will be uniquely theirs. They can redeem it for custom framing, pre-framed artwork from our gallery, or that perfect home décor accessory.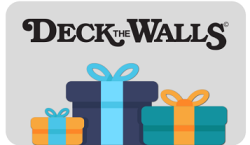 Click the link below to open a new window on our Franchise Concepts, Inc. PayPal site
In the Price per item box enter the value to be loaded on the gift card
Choose how the gift card will be mailed to you
Your card is mailed as soon as possible but certainly on the next business day
After your purchase you will have the opportunity to provide a complimentary message to accompany your gift card purchase.  You may also click HERE to create a message.